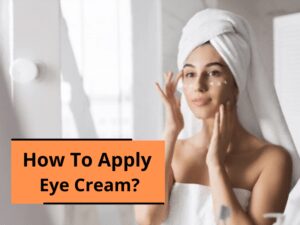 As the skin is sensitive around the eyes, there may be an effect on the eyes if you didn't use eye creams properly under your eyes. However, from wrinkles to dark circles, there are a few steps to apply eye creams under an eye area properly.
Applying the eye cream is more complicated than using the cream is on other face parts. Yet, the eye area is more prone to showing signs of aging, wrinkles, and dark circles. However, are you also suffering from dark circles under your eyes? So add the eye cream to your daily skincare routine for youthful-looking.
After adding the eye cream to your skincare routine, learn how to apply eye cream from this guide in three simple steps that dermatologists recommended. Read on below and use the eye cream with the best guide.
Step by Step Guide How to Apply Under Eye Cream
So are you ready to apply an eye cream under your eyes? Here I will tell you all the simple and easy methods of using cream under the eyes. Therefore without any effects on the eyes, you can easily apply and take sleep at night.
Step One: Apply a Pearl Amount
Eyes are the delicate part of the eye area, so apply a pearl quantity of amount under both eyes says, Tamara Lazic, dermatologist. Apply dots under your eyes. Use your ring finger until the eye cream absorbs and your skin will be soft.
Don't apply too much pressure under your eyes; it may cause you to tear your skin.
Step Two: Inner Layer to Outer Corner
For applying, start at the inner corner to apply the outer corner of small dots of cream. To improve circulation, gently in a semi-circle pattern till the cream is entirely absorbed. When doing this, be careful not to stretch or pull the skin.
To avoid inflammation, don't get too close to your eye. Also, unless the product label clearly states otherwise, avoid putting anything on or near your eyelids.
Step Three: Wait Before Applying Makeup
After applying the cream, you can apply makeup over the eye creams. But, before using the concealer, you should wait at least 30 seconds or more until the product will not absorb perfectly.
When you feel the product is absorbed, then you can easily apply the makeup or concealer over the eye area.
If you are still ensured, you can watch the below video for more clarification.
Tips for Applying Eye Cream
As all tips I have mentioned above, you can apply dark circles, wrinkles, anti-aging eye cream by following the above method.
But if you want to best results, apply the eye cream twice a day. One time in the morning, and one time at the night. Most people like to apply it during the day to enhance their makeup, while others prefer to use it at nighttime. When it comes to how this step fits into your routine, apply your eye cream after cleansing and toning before applying your moisturizer or night cream.
Do you put eye cream on before concealer?
Of course, you can apply eye cream before concealer, but make sure to use the product after 30 to 90 seconds. When you apply concealer as the final stage of your makeup, it gives your eye cream plenty of time to soak and clear up any fallout. After priming the eye area, choose a lightweight concealer to avoid creamy results.
What helps irritated skin around the eyes?
To relieve dry, itchy skin and irritation, apply cool massages to your eye area or eyelids. However, finding the chilly compressing products is also best for eyelids. If you suspect blepharitis, firstly, keep your hands clean and apply warm compresses to your eyes. Warm compresses may be available at any pharmacy.