I have seen most customers like and think the CeraVe is the best for rosacea over the Cetaphil eye cream.
Are you also that person who thinks like that? If yes, then why do the peoples recommend CeraVe over the Cetaphil for rosacea. Let's take a deep look and know which one is the best eye cream for you.
The Overview of Cerave and Cetaphil Brands
Both Cetaphil and CeraVe are trusted and well-known brands for producing effective skin products and quality maintained.
Both manufacturers do not add cruelty and irritation ingredients in their skin products so that those who have sensitive skin can easily use these skin products.
However, the dermatologist also recommends the CeraVe or Cetaphil cream, but they recommend when they see the condition or cure of your skin.
This is what both products do the work. Yes, I meant to say each product provides different benefits with different results.
Likewise, the CeraVe is one of the best eye creams for reducing puffiness and minimizing the appearance of dark circles.
Alternatively, Cetaphil contains natural ingredients that help to reduce under-eye bags, eye puffiness, and dark circles.
But the question is, what the main difference between Cetaphil VS CeraVe cream is? Take a look below and know the benefits, ingredients, and further details.
CeraVe Eye Cream
Our Choice
Specifications:
Brand: CeraVe
Item form: Cream
Use for: Eyes
Skin type: All skin types
This eye cream formulates with the 3 essential Ceramides that are best to make youthful skin and reduces dark circles and eye wrinkles.
CeraVe is a newer company founded in 2005 by American dermatologists and researchers. It is the first skin product in overall all products that offers the full line products treatment and contains the Ceramides that the skin actually needs. The skin needs Ceramides just like the human needs the food to live because the Ceramides helps to repair the skin protective barrier to help restore it. 
Despite this, when you use the CeraVe cream, you will notice your eyes will glow and give a brighter look with the smoothens. However, this under-eye cream is a powerful eye formula that helps reduce your eye cure without redness and itching. Dr. Zain Husain also recommends I use CeraVe products when my eyes are darker and getting wrinkles. 
Benefits to Using the CeraVe Eye Repair Cream
This product is noncomedogenic, which means it will not clog pores around your eyes.

It helps to reduce dark circles, puffiness, and wrinkles.

Dermatologists and ophthalmologists have tested it. It means that the CeraVe eye repair cream is safe to use under the eye area.

CeraVe is suitable for all types of skin.

This cream helps to repair the skin barrier protectively, which maintains your skin health and condition.

It contains hydrating and moisturizing ingredients such as hyaluronic acid to moisturize your skin.

MVE technology is used in the cream (multivesicular emulsion). This technique ensures that all of the elements that keep the skin moisturized are supplied effectively and that the skin remains moisturized for an extended period of time.

It also contains the botanical complex and marine formula, which helps to minimize puffiness and dark circles.

Another benefit of this cream is that it contains 3 essential Ceramides formula that protects your skin barrier.
Ingredients in Cerave Moisturizing Cream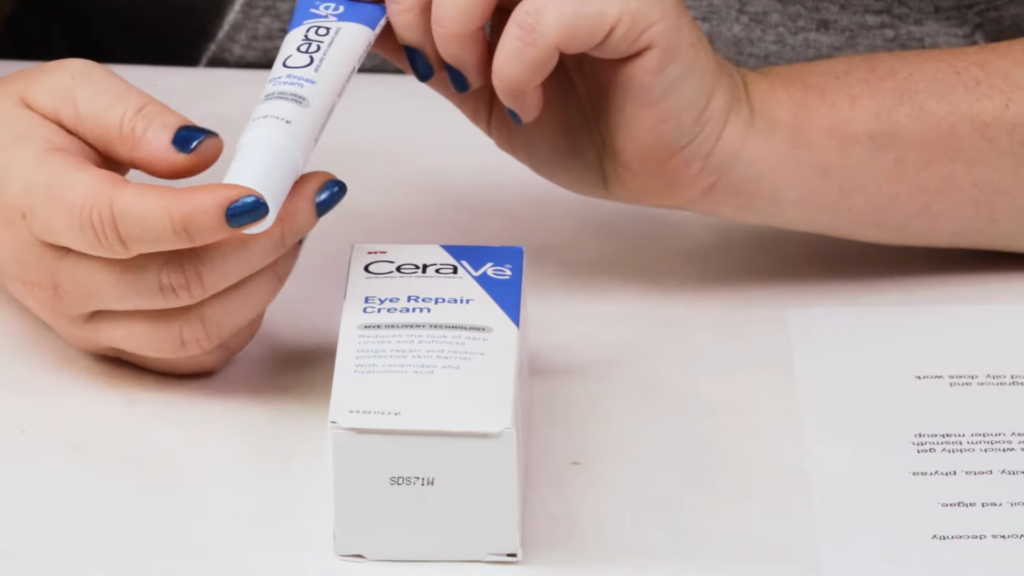 The CeraVe eye cream contains many ingredients; however, I have listed some very beneficial ingredients for your skin. Nevertheless, this eye cream doesn't contain harmful and chemical ingredients which are not good for the skin. Therefore, you can safely use this eye cream. Rest are the essential ingredients that contain the CeraVe cream.
Niacinamide
Niacinamide is also known as Vitamin B3, which works to provide hydrating on the skin. It also helps to soothing properties and alleviates conditions like rosacea. Besides, it is a very effective ingredient to prevent water loss. 
Furthermore, it brightens the dark spots on the skin with a blemish look. It also boosts the collagen and production of the skin to boost and get rid of wrinkles and dark circles.
Hyaluronic Acid
Hyaluronic acid helps to moisturize the skin by attracting the water to the external layer and protecting it from harmful bacterias. Your skin will moisturize when you use the hyaluronic acid provides. Besides, the Cerave contains hyaluronic acid because it helps to reduce the dark circles, wrinkles and make your skin soft.
Ceramides
Another one that is my favorite ingredient is Ceramides. The ceramides use to protect the skin barrier by strengthing and tightening the skin. If your skin gets dark spots and wrinkles, dermatologists recommend using Ceramides-containing products.
Not only these but however the ceramides also help to maintain skin health and nourish dry skin. Besides, the Cerave contains three Ceramides 1, Ceramides 6- ii, and Ceramides 3. 
Pros 
Hydrating 
Moisturizing
Minimize the appearance of dark circles 
It reduces wrinkles
It keeps the skin barrier protection to prevent germs
Cons
Sometimes it causes itching on the most sensitive skin
Cetaphil Hydrating Eye Cream 
Our Second Choice
Specifications:
Brand: Cetaphil
Item form: Cream
Use for: Eyes
Skin type: Normal
Cetaphil hydrating eye creams contains Hyaluronic acid to moisturize your eyes and make the apperance radiant and youtful. It helps to reduce dark circles to brighten the eyes.
When you turn to the Cetaphil eye cream, your skin will be hydrated and youthful because Cetaphil contains powerful ingredients that help maintain the skin collagen and enhance youthful skin. But if you are tired with dark circles and wrinkles, it quickly nourishes your skin and hydrate with hyaluronic acid and sodium hyaluronate.
Besides, your skin looks nourished and quite hydrated while applying the Cetaphil eye cream. I am loving to use this because it helps to make my eyes youthful and reduce dark circles under my eyes.
Benefits of using the Cetaphil Gel Eye Cream
Cetaphil helps to moisturize your sensitive skin area around the eyes.

It contains powerful ingredients like hyaluronic acid to nourish and plump up the skin.

It is the best nourishing under-eye cream.

It brings the dark area to the light even in the sensitive skin

This product is suitable for all skin types.

Cetaphil cream is a non-irritating gel formula, unlike other skincare products.

It is also hypoallergenic.

A non-comedogenic cream formulated which will not cause to open skin pores.

It contains a lot of natural ingredients without Paraben and cruelty.
Ingredients in Cetaphil Moisturizing Eye Cream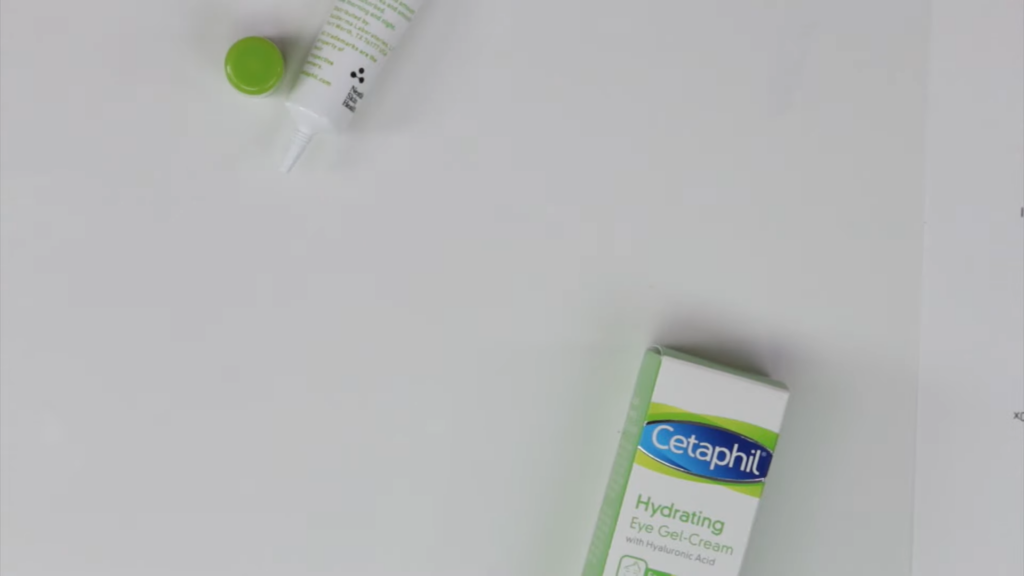 The Cetaphil contains natural ingredients, which are very beneficial for all types of skin. However, this is also the best eye cream for the 20s, 30s, or 40s. It will not harm your skin; alternatively, applying the Cetaphil under eye cream helps maintain your skin youthful. Below are the ingredients contain Cetaphil cream;
Hyaluronic Acid
One of the best ingredients is Cetaphil contains hyaluronic acid, which is an excellent skin formula. It helps to moisturize and can hold the water up to 1000 times. It also rejuvenates the skin and improves skin texture. 
Bisabolol 
If your skin irritates whenever you apply the eye cream, Bisabolol helps prevent the skin from becoming irritated. It is an anti-irritant ingredient that soothes the skin when irritated.
Licorice Extract
Another beneficial ingredient Cetaphil moisturizing eye cream contains licorice root extracts. It is an excellent ingredient, works well to deal with any dark spots or circles under the eyes.
Vitamins
Vitamins are essential for the skin, like a human needs to drink the water to live. Same as vitamins, do the best work for maintaining the skin to make it healthier. It helps to nourish, and hydrate the skin and protect the skin cells.
Pros
Lightweight formula 
Non-greasy 
Hydrating and moisturizing eye formula
Perfect for oily skin and all types of skin
Available at an affordable price
Cons
Not suitable for anti-aging eyes
CeraVe Vs Cetaphil Eye Cream – Which one is better, Cetaphil or Cerave? 
The Cetaphil and CeraVe eye repair cream is a hydrated and moisturizing eye cream formula that helps maintain collagen skin. Both the creams contain natural and potent ingredients to nourish the eyes. Besides, Cetaphil and CeraVe have positive reviews from the customers, but CeraVe is the best to relieve the eyes. 

CeraVe and Cetaphil hydrating products ensure that the skin is plumper and moisturized, and softer. However, Cetaphil is a good eye cream for dealing with dark circles and wrinkles, unlike the Cetaphil eye cream. Therefore, if you are tired of the dark spots under your eyes, the Cerave is best to treat, unlike Cetaphil. Because it is best to deal in minimum weeks, however, Cetaphil requires more time to lighten dark circles.
You will be also surprised with these products, once you select the right product and apply it under your eyes.
Does Cerave test on Animals?
No Cerave is not tested on animals; however, it formulates to be considered 100% cruelty-free. But CeraVe is tested by dermatologists and ophthalmologists, which will not harm your skin. 
Is CeraVe vegan and cruelty-free?
Cerave is not tested on animals; they are vegan-free and cruelty-free.
Does Cetaphil test on animals?
Cetaphil products contain effective and gentle ingredients to hydrate the skin. But it is not tested on animals; they are famous in those countries that are not searching for the tested animal's products. 
Final Verdict
Overall, Cerave reviews and Cetaphil reviews from the above article helps you to decide on both ingredients and cream. Are you still confused about Cerave Vs Cetaphil eye cream? Let me clear your confusion; the CeraVe is more powerful to remove dark circles and wrinkles, unlike Cetaphil. But I am not saying that Cetaphil is bad. 

The Cetaphil is also the best eye cream for reducing the wrinkles and dark circles around the eyes; however, it takes at least three weeks. While CeraVe helps to restore your skin and quickly helps to brighten the skin.